Eliško, je to tady! Dnes je ti 30. Nastává nová éra, kdy studentům bude hloupé ti tykat. Pokud se ale, mé milé já, budeš řídit následujícími 30 radami, všechno zvládneš.
1. rada
Začněme třeba tímhle: Většinu problémů zvládneš vyřešit sama (pokud tomu věnuješ dostatečné množství času), to ale neznamená, že bys vždycky měla. Požádat o radu někoho zkušenějšího není známka slabosti. Naopak. Chce to víc odvahy, než rozhodnout se vyřešit problém sama.
2. rada
Nepředstírej, že víš, když nevíš. Neznat odpověď na všechno je v pohodě.
A focus on looking smart keeps a person from taking risks in life, the small ones that help people rise toward their aspirations, as well as the bold, visionary moves that lead to greatness. Failure […] gives you useful information, and the opportunity to discover what you're capable of doing when you really set your mind to it.
—Make It Stick: The Science of Successful Learning by Peter C. Brown
3. rada
Přestaň své sny snít, začni je žít.
4. rada
Odlož-spi-opakuj není nejlepší způsob, jak začít ráno.
When we snooze, we are disrupting the REM sleep — or dream sleep — which is a restorative sleep state, and that can trigger a response that increases your blood pressure and heartbeat. And 5 or 10 minutes is not enough time to return to restorative sleep. Hitting the snooze button is also not the best way for our minds to begin the day. We add to our stress by starting our morning in a fight with our alarms, where we eventually concede defeat.
—Headspace, How to Stop Snoozing
5. rada
Psaní není výsledný produkt přemýšlení. Psaní = přemýšlení. Pravidelný návyk psát je jeden z tvých nejlepších návyků, který sis vybudovala. Nepřestávej.
6. rada
Think big, act small. Dělat malé kroky je těžké, ale ty to zvládneš.
It takes humility to look ourselves in the mirror and say, "You know what… I'm actually not as good as I think I am." And here's the key—to say it without feeling shame. Acknowledge your beginner status without feeling shame. The more I've focused on being humble, and taking baby steps, the easier the journey has become. And do you know what? The results actually come quicker than you might expect.
—Billy Broas, newsletter
7. rada
Neporovnávej se s ostatními. Porovnávej se se svým minulým já.
8. rada
Nesnaž se všem zavděčit. Říkej ne. Mysli na sebe.
If you're looking to make room for what's most important in life, you're going to have to get really comfortable with one word. It's the word "no." If I was saying "yes" to absolutely everything, I wasn't making time for the projects and goals I cared about most (or I'd burn myself out by trying to do it all). Even though I now have years of experience saying "no," the one thing I can tell you is that it never gets easy. When I have to turn down requests to collab on a project, grab a coffee, or be a guest on someone's podcast, I still feel my stomach clenching from the pressure to please other people. But when you have limited time, energy, and attention, you have to get super clear on where you're going to spend it. Otherwise, you're going to spend the rest of your life prioritizing someone else's dreams while yours are left in a drawer collecting dust.
—Matt D'Avella, newsletter
9. rada
Originalita se přeceňuje.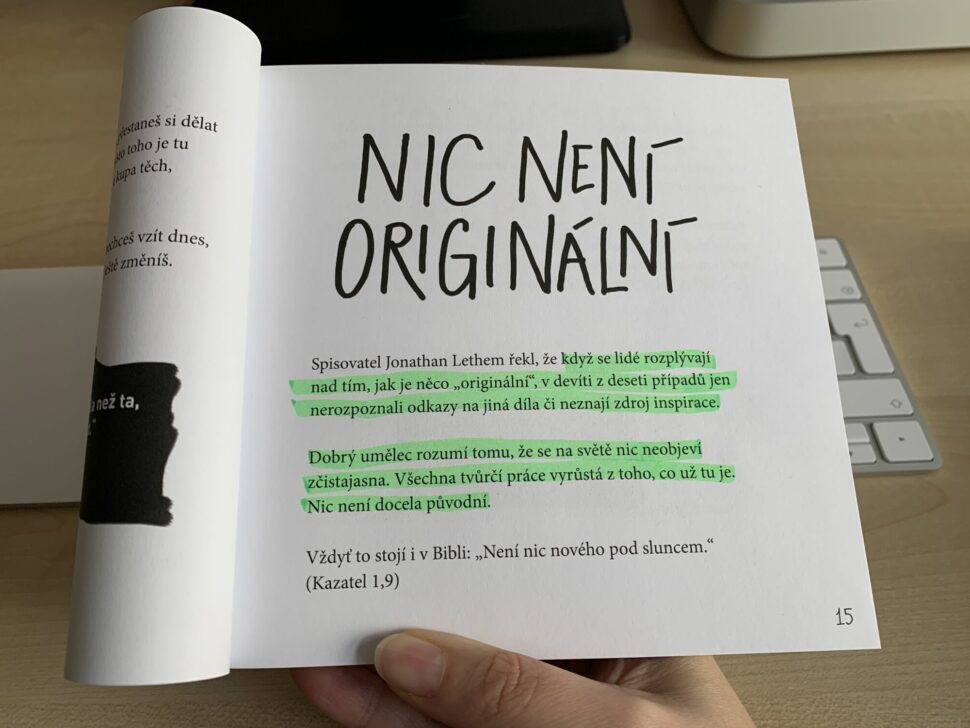 10. rada
Sdílej vše, co ses naučila.
With all the talk about "creating content" and "building an audience," there's something many people miss: there's a middle ground between being completely anonymous online, and making a full-time living as a creator. That middle ground is joining and engaging with a niche community. The whole reason it's worth documenting your knowledge and sharing it online is that it connects you with other curious, interesting people.
—Tiago Forte, newsletter
11. rada
Nemůžeš být dobrá ve všem. Oprava: dobrá být můžeš, ale ne vynikající. Pokud chceš vynikat, vyber si, čemu chceš věnovat svou energii. Choose wisely.
12. rada
Když pochybuješ, zdali se pustit do nového projektu či vzít nějakou příležitost, vždy se sama sebe zeptej: "Budu si později vyčítat, že jsem to neudělala?".
The reason you're on this path is not because it's guaranteed. It's not because it's certain. It's because you want to avoid looking back with regret saying, "I should have done this" or "I should have done that."
—Matt D'Avella, newsletter
13. rada
Klíčem k úspěchu a splnění dlouhodobých cílů je konzistence.
14. rada
Nenechávej si uniknout příležitosti jen proto, že nejsi na 100 % připravená.
When I was a kid, I had a big dream: to build the ultimate LEGO spaceship. […] At some point I had the idea that I could create the best spaceship ever designed. […] But before building, I thought, I had to get organized. […] I spent months devising a system of compartments sorted by how specialized the pieces were, which required a complex scheme that I tracked using small pieces of paper stuck between the plastic trays. But still, my vision of perfect order and effortless retrieval eluded me. No matter how hard I tried, I could never quite organize my LEGOs in a way that felt natural and intuitive. […] After a few years, the expansive free time of childhood gave way to the demands of school, sports, and after-school activities. I got busy, and my dream faded. I never even attempted to build that spaceship. Never laid one brick atop another to test my vision and see what was possible. I still feel a little sad to this day that I never gave it a shot. But that disappointment instilled in me a strong belief: that preparation is often procrastination in disguise. And so, I created a rule for myself: to always take action before I'm ready.
—Tiago Forte, newsletter
15. rada
Vždycky začni u sebe.
16. rada
Tělo máš jen jedno. Nové si nekoupíš. Starej se o něj!
Taking care of you is the best thing you can do for your job, your family, and your friends. Self-care is essential not just for feeling good but also for functioning well in everyday life.
—Robyn L. Gobin, The Self Care Prescription
17. rada
Běž se vyvětrat ven. Vezmi s sebou pejsky.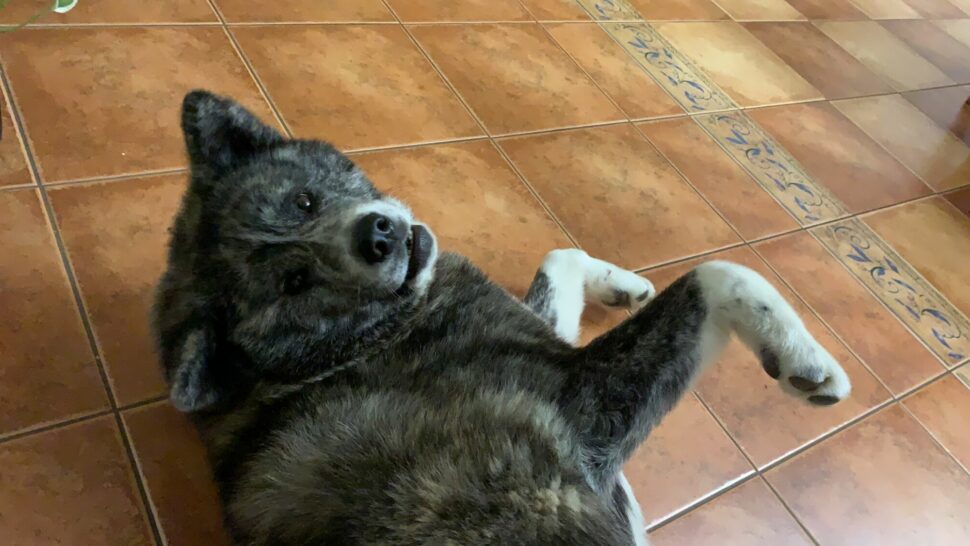 18. rada
Nejdříve se snaž pochopit druhé, potom být pochopena.
Většina lidí nenaslouchá s cílem pochopit, co jim druzí říkají, ale proto, aby jim nějak odpověděli. Buď hovoří, nebo se chystají hovořit. […] Tito lidé neustále promítají vlastní život do chování druhých lidí. Každému s kým mají co do činění, radí a předepisují, jak se má na věci kolem sebe dívat – tak jako oni. […] Až budete s někým komunikovat, nechte stranou své životní zkušenosti a snažte se ho skutečně pochopit a porozumět mu.
—Stephen R. Covey, 7 návyků skutečně efektivních lidí
19. rada
Nenech se odradit tím, že je to těžké. Pamatuj, že…
20. rada
Neřeš, co si o tobě myslí ostatní.
21. rada
Zpomal. Nehltej okamžitě každý článek, newsletter, nebo podcast se sexy názvem. Vybírej, čemu budeš věnovat svůj čas.
Adopt the mindset of a curator — objective, opinionated, and reflective. As you come across social media updates, online articles, and podcasts throughout your day, instead of diving in immediately, save them for future consideration. As you begin to collect content, you'll be able to choose which sources to consume in a deliberate way.
—Tiago Forte, Building a Second Brain: An Overview
22. rada
Opakování dělá mistra. Bruce Lee said: "I fear not the man who has practised 10,000 kicks once, but I fear the man who has practised one kick 10,000 times."
23. rada
Shiny new object syndrom existuje. Dej si na to pozor!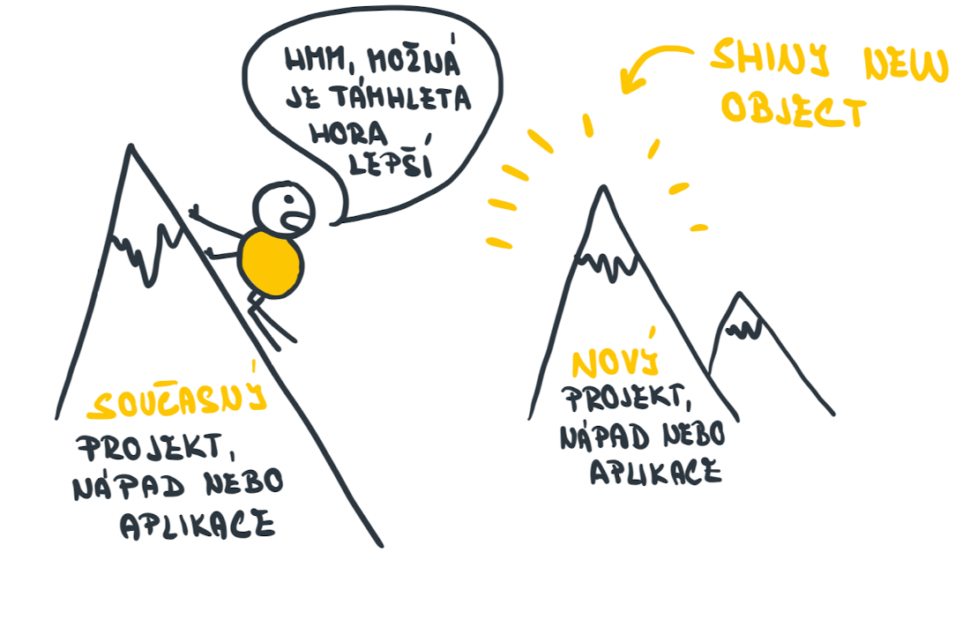 24. rada
Vylepšuj věci postupně. Nesnaž se hned o perfektní výsledek.
25. rada
Když něco nefunguje, zastav se a přemýšlej, co bys mohla dělat jinak.
26. rada
Pokud se u nějaké činnosti nudíš a děláš u toho něco jiného, nebylo by možné tu první činnost nedělat vůbec?
27. rada
Je v pohodě se občas cítit mizerně.
28. rada
O víkendu se nepracuje. O víkendu se odpočívá (a hraje se Heroes of Might and Magic 3). Jsi produktivnější když pracuješ 5 dní v týdnu, než když pracuješ 24/7.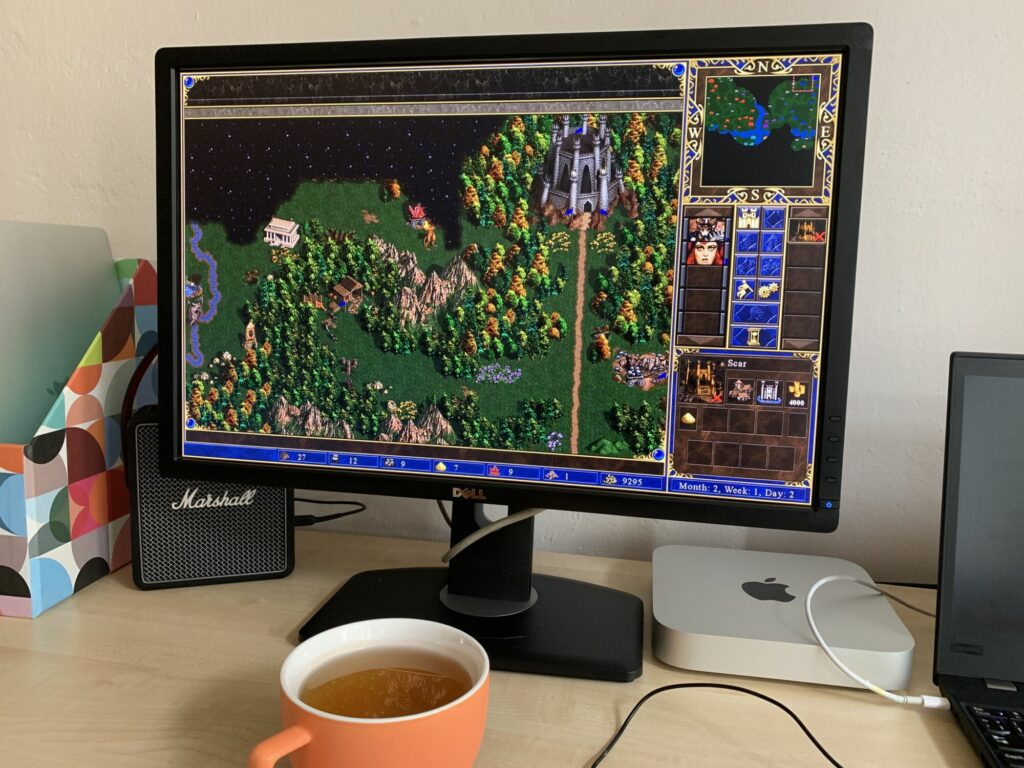 29. rada
Budou dny, kdy budeš mít chuť se od všech těhle dobře míněných rad dát pauzu. Udělej to! Jen nepropadni iluzi, že když jsi to dva dny nedodržovala, tak už nemá cenu v tom pokračovat.
Poslední rada
Nejsi stará. Je ti 30. Život teprv začíná (říká to Pokáč, tak to musí být pravda)!